Black Voices in Films to Support during Black History Month
Reading Time:
3
minutes
Black History Month is the month dedicated to amplifying and supporting Black voices in everything that they do. Not simply ignoring but educating yourself on the hardships the Black community has faced and continues to face every single day in a world that is against anyone or anything that doesn't look like them. Acknowledging the hardships are in the past, but to never forget and to continue to learn about a history that is kept hidden from the Black community and the rest of the world to keep people complacent about how certain history happened when that is not the full story. 
This month, despite being the shortest month out of all 12 months to celebrate Black history and culture, is one to celebrate the Black community also outside the hardships they face. Big-name companies and media do their part to help celebrate Black history month by putting out films, books, movies, and even apparel to support Black voices of all kinds. But why is it that they only do this during this month or films to help celebrate the month are only about racism and slavery? Why when celebrating Black voices does it have to be about racism as the bad guy and not just simple everyday hardships? 
If you want to know how to do your part in supporting Black History Month it could be as simple as supporting a small Black-owned business, educating yourself more about their history, or even watching strong Black films. 
Check out these films featuring strong Black actors/actresses going through situations where racism is not the bad guy: 
Belle (2013)
Based on a true story where this time-period piece drama follows a young bi-racial woman in 18th- century England navigating her station in life as a woman, where women are supposed to marry if they want any true power or to rise in their current station. Where racism is involved, but not at the forefront of the movie when it comes to Dido Elizabeth Belle changing history forever and finding true love for the first time. An important film in a genre that focused on the stories of prominent white women, putting to light the very important roles Dido played in history. 
Roll Bounce (2005)
A young man and his friends share the same love for skating, roller skating to hip-hop and R&B jams. The perceived leader of the group Xavier, played by Lil Bow-wow, is dealing with the traumatic experience of losing his mother. Trying to step up and help his dad out with his younger sister, while dealing with the stressful young years of being a teenager in love. Showing how tight-knit communities come together to see their children succeed in things as simple as roller skating. 
Soul (2020)
An animated Disney film that follows a humble music teacher, voiced by Jamie Foxx, who still dreams of playing with his favorite jazz band. Living life but not fully living the life he wants, but realizing that his life does not need to be at the center of music. But to allow himself to appreciate the little things about life. The film gives you a glimpse into what happens before you are born and choosing what type of life you want to live. Seeing what is going to be your purpose on Earth, but also make sure to know that purpose is not the only thing you are meant to do on Earth. But to learn anything you can in this life and appreciate the simple things. 
Concrete Cowboy (2021)
This film follows the coming of age story following a 15-year old boy, Cole, played by Caleb McLaughlin (Stranger Things) who is a troubled teen not finding his way in life yet. His mother sent him to live with his estranged father, Harp, played by Idris Elba to set him back on the right path. Forming this newfound bond with his father while learning his father's history. Making connections with a greater sense of community that he never expected to. Also, giving the audience an insight into something the media never covers, the fact that is a community of Black cowboys and even pirates in society but is never talked about. Read more of Rayiah Ross's article "What Pirates and Cowboys Show Us About The Inaccuracy of Historical Accuracy" to learn more about this historical inaccuracy. 
View Comments(1)
About the Contributor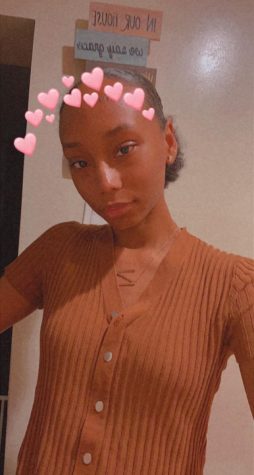 Najla Alexander, Crime Reporter/Features Editor
Najla Alexander is the Features Editor and Crime Reporter for The Monitor. She is Majoring in Digital Journalism and Minoring in Forensic Psychology. Her...