The Female Gaze in the Netflix Series Bridgerton
Reading Time:
4
minutes
The Bridgerton series on Netflix is number 2 on the Top 10 most viewed TV shows in the U.S. today and if you are a fan you know why, but if you haven't seen the second season finale yet stop reading, and once you finish come back to so we can all long to bask in the bane of Anthony's existence *wink wink*. 
Season two of Shonda Land's hit, Bridgerton has got fans wanting an enemies-to-lovers trope like they never have before. The new season introduces stunning new cast members, twice the drama, a slow-burn of the ages that leaves you wanting more, and a soundtrack to die for. Explosions of love for this season and its' cast are all over Twitter and TikTok, where fans can't get enough of this Regency-era escapism. 
Following the books series, the show is based on, the second season follows the story of the oldest brother, Viscount Anthony Bridgerton played by none other than Jonathan Bailey who has been trying to find a wife for himself to finally settle down. Looking for a suitable wife whom he can know can take over as head of the household from his mother, refusing to marry for love but out of duty. Upon doing so he meets Kate Sharma played by the beautiful Simone Ashley while horse riding, showing Anthony a thing or two about women being capable of anything. Segueing into Lady Danbury bringing a family back onto the new social scene, the Sharmas with Kate Sharma trying to find the best match possible for her little sister. Her name is  Edwina Sharma who is played by Charithra Chandran who will also allow her little sister to find true love. Edwina being named the diamond of the season opened up a whole door for possible love matches including the Viscount Bridgerton. 
Long story short, Anthony sets his sight upon Edwina but Kate wants to ensure that a possible suitor is nothing less than perfection for her sister causing a rift between Kate and Anthony. Time and time again Kate and Anthony are fiercely getting under one's skin, this passionate tension growing between the two mistaken for hate but slowly starts to turn into love. Moments where Anthony is almost feral over the scent of Kate, but constantly complaining to his siblings that "she is aggravating" and Daphne catching the two in compromising positions. The Bridgerton family feels this whirlwind of emotions where Anthony will not put his heart first despite feeling this unexplainable pull to this woman who is constantly challenging him. Refusing to lose the "gentlemen" side of him when interacting with Kate, constantly bringing up he is "hanging by a thread" but when Kate tries to move past these feelings, he is there steaming with jealousy. 
Kate is always ripping him a new one and telling him how it is when needed (which is quite a lot) and dumbfounded that someone has spoken that way to him, especially a woman during this time. Edwina has none the wiser hopes of getting a proposal from the Viscount, but discovers before it's too late Anthony will never love her the way he does Kate. After finally getting out of each other's way they let themselves feel these emotions and tell each other how they feel, getting married for the love they have for each other and not just out of duty. Don't worry Edwina could have a possible match with the Queen's son, the Prince in the next season with the Queen's full support. 
In this season's most intimate scenes you will notice it is focused on the female gaze. The female gaze is a powerful thing that has been used in the right away throughout the series, showing women, not as sexual objects but they too have sexual wants and desires even in a time when those things are hidden from women or being lied about because they are 'taboo'. The Bridgerton stars comment on how the female gaze is so important to portray correctly in series like this, "There are so many people who will go, 'Oh yeah, Bonkerton,' but the female gaze is so important because there are many ways people communicate by sex, and what sex means, and what your body means to someone else. It's important that there's an inversion of sexuality and how people are exploited in the storytelling of sex," stated Jonathan Bailey in accordance with Inside Hook, "There's always been a familiarity deep down with what Kate wants," said Simone Ashley of her character, "that's what I love about shows like Bridgerton and Sex Education: They might be touching on slightly taboo topics, but these characters know what they want." Never you will see a random close-up of a female's breast for no reason, every shot during an intimate scene is specific for a reason to get the female gaze right to the audience. 
Not only does this show transport you to the Regency-era while watching but it is the perfect form of escapism where there is no racism, colonialism, or imperialism discussed, just POC characters living out their lives as queens, viscountesses, and having titles. Not just as servants, slaves, or footmen but everyone equal just simply living their lives. Some critics are pushing to have all this realism but what they are not taking into account is POC have to live through these things every day seeing their people suffer in real-time and on screens if there is a chance to escape that reality for a little while there's no need to try and take that away. POC men and women deserve to not think about the hardships they face every day for a measly hour out of the day. 
Stay tuned for the release date of Season 3 and 4 of Bridgerton where we get to see Jonathan Bailey and Simone Bailey come back as Viscount and Viscountess Bridgerton living their happy lives (internal screaming)! 
Leave a Comment
About the Contributor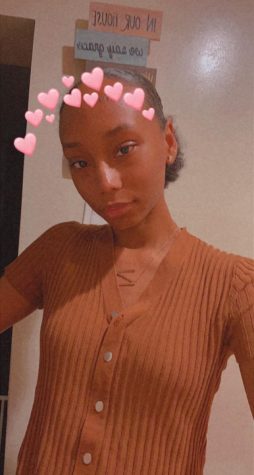 Najla Alexander, Crime Reporter/Features Editor
Najla Alexander is the Features Editor and Crime Reporter for The Monitor. She is Majoring in Digital Journalism and Minoring in Forensic Psychology. Her...