Fantastic Beasts: The Secrets of Dumbledore is Lowest Selling in the Harry Potter Series
Reading Time:
3
minutes
The third installment of the Fantastic Beast series, Fantastic Beasts: The Secrets of Dumbledore, was found to be the lowest selling movie out of the entire Harry Potter series. The third chapter in the series prequel follows professor and later headmaster Albus Dumbledore who teams up with Newt Scamander (Eddie Redmayne) a very skilled magizoologist to stop an impending war in the wizarding world before it's too late. 
Unlike the previous two movies, Fantastic Beasts and Where to Find Them & Fantastic Beasts: The Crimes of Grindelwald, who brought in $74 million in 2017 followed up by $62 million in 2018 across North American box-offices. The third movie unfortunately only brought in $43 million upon opening night due to a multitude of things, in accordance with Variety. Including with the pandemic still looming over us affecting people greatly internationally, box-offices are still closed in places like China, along with controversy still hanging over the series due to J.K. Rowling and her views involving the LGBTQIA2+ community. Lately, due to Depp and Heards' court proceedings with the domestic abuse allegations against him.
Fans are speculating the main reason behind the third installment was low in the box-office is due to Johnny Depp being removed from the series who played Grindelwald. The part is now played by Mads Mikkelsen due to domestic abuse allegations and recent court defamation case with ex-wife Amber Heard. In November of 2020, Johnny Depp agreed to resign from his part as Grindelwald releasing a statement, on Instagram, according to People, "In light of recent events, I would like to make the following short statement. Firstly, I'd like to thank everybody who has gifted me with their support and loyalty. I have been humbled and moved by your many messages of love and concern, particularly over the last few days. I wish to let you know that I have been asked to resign by Warner Bros. from my role as Grindelwald in Fantastic Beasts and I have respected and agreed to that request. Finally, I wish to say this. The surreal judgement of the court in the U.K. will not change my fight to tell the truth and I confirm that I plan to appeal. My resolve remains strong and I intend to prove that the allegations against me are false. My life and career will not be defined by this moment in time."
Johnny Depp being asked to resign from his role as Grindelwald due to Amber Heard's domestic abuse survivor story in The Sun newspaper in 2018 describing Depp as a "wife-beater" infuriated fans who believed Johnny Depp to be indeed innocent. Which many believe was a big percentage of why the box-office numbers were lowest for the last installment of The Fantastic Beast series. Now, with all the evidence being presented in the defamation trial it is being found Amber Heard is lying about all the abuse, physical and emotional, allegedly been done to her by ex-husband Johnny Depp. Including hospital records of Depp being sent to the hospital after the tip of his finger being chopped off by Heard and even recorded evidence of her stating no one will believe Johnny Depp if he tell the world that he is a victim of abuse. After all of this evidence and Johnny Depp's testimony, how come Amber Heard was not asked to step down from her role in Aquaman 2, just like Depp was in his Fantastic Beasts role as well as his part as Captain Jack Sparrow in a fifth installment of the series, in accordance with Daily Mail? There  has even been a petition going around to remove Amber Heard from her part in Aquaman 2 due to being exposed as the one who is allegedly domestically abusing Johnny Depp.    
If Hollywood allows Amber Heard to continue her role in Aquaman 2, despite all of the evidence, it goes on to show that if you are a celebrity, pretty, and blonde you can get away with anything you want, even domestic violence and even blatantly lying on the stand. Glamorizing the domestic violence and abuse of Johnny Depp while not doing anything to help and aid his suffering. Men as well as women are victims of domestic abuse and violence, which needs to be more acknowledged. "More than 1 in 4 men (28.5%) in the U.S. will experience rape, physical violence and/or stalking by an intimate partner in their lifetime… 1 in 7 men have experienced severe physical violence by an intimate partner during their lifetime. Intimate partner violence accounts for 15% of all violent crimes," according to The National Domestic Violence Hotline. 
All of this exposes the truth that has been tried to be kept hidden for so long, that brings up an important topic that we society should believe men as well as women when coming forth with being abused by their partners.
Leave a Comment
About the Contributor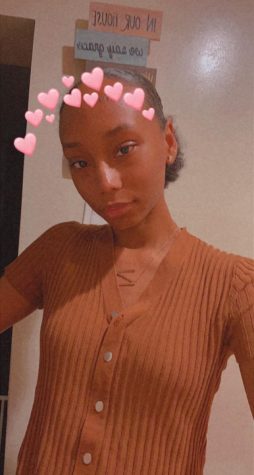 Najla Alexander, Crime Reporter/Features Editor
Najla Alexander is the Features Editor and Crime Reporter for The Monitor. She is Majoring in Digital Journalism and Minoring in Forensic Psychology. Her...