The Best Tattoo Shops For Marymount Students
Reading Time:
2
minutes
With a creative and expressive group of students, Marymount's student body is collectively getting more tattoos than ever before. With the popularity of small flash tattoo sales and independent artists working right out of their homes, it can be hard to navigate the world of tattoos. With such a permanent decision, there is a weight to picking the right artist and shop. 
Flash tattoo sales are growing in popularity, with simple designs to pick from at as low as $20, this is an affordable and secure way to start your tattoo journey. Redink Tattoo Studio, located at 315 West 54th St, is highly praised by Marymount Students with flash sales every month containing hearts, zodiac signs, and more tiny designs. They give their clients the comfort of an established studio filled with experienced and talented artists who can be trusted and have
created an exciting atmosphere where people line up around the block for these flash sales. 
If you're looking for a shop with smaller artists, Shop Of Fools in Greenpoint Brooklyn is an inclusive safe space started in 2019 with three artists. They specialize in trendy,​​ colors, illustrative linework, and most importantly doodle tattoos. Multiple Marymount Manhattan students have had good experiences in this space and have left with a new piece of artwork to cherish. They also allow trades and have prices on a sliding scale to fit the needs and accommodations of their clients. One of the artists Tessa Rose responded "At Shop of Fools we tattoo all sorts of people from all sorts of backgrounds, but most commonly we have college students coming in to get tattoos. We make a lot of first tattoos, and often people recommend their friends to come to Shop of Fools for their first tattoo because we are very patient and caring clowns!" 
If you're looking for something more extreme, Sena Tattoo located at 229 Center St specializes in Japanese, Traditional, and Realism tattoos with bold lines and vibrant colors. Their space matches their work with a beautiful art gallery inviting you in. Their intricate designs are not for the lighthearted, but each piece is a permanent installation of art on your skin. Their talented world-renowned artists will make it worth the price to have a unique beautiful tattoo. 
Tattoos have gradually become normalized in the workplace, especially in the arts that many Marymount students are studying. Marymount students value self-expression and creativity and this can be seen in how they present themselves. These tattoo artists will support you through your tattoo journey.
Leave a Comment
About the Contributor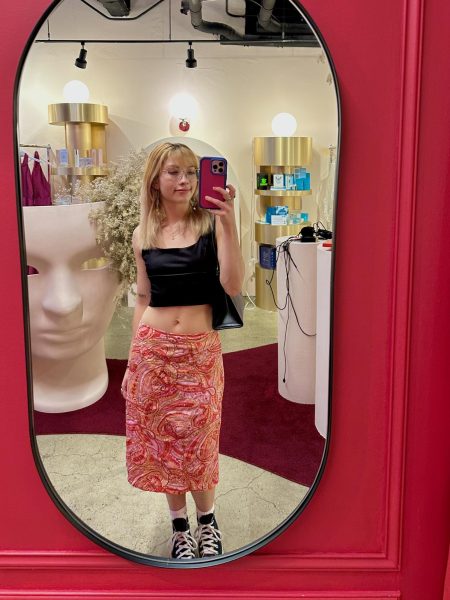 Francesca Crumpton, Digital Managing Editor
Francesca Crumpton is a Senior at Marymount Manhattan College studying Digital Journalism with a minor in Political Science. She specializes in writing...