MMC Drag Performers Guilty of Serving at this Year's CAB Drag Show!
Reading Time:
3
minutes
On Friday, February 17th, the Campus Activities Board threw their annual drag show with this year's theme: Written In The Stars. The show, which took place in the Great Hall dance studio, welcomed the Marymount community to participate in a fun night of trivia and performance. 
Unlike the previous CAB drag show in 2022, this year's show was not a competition but rather a pure night of celebration for drag performance and most importantly, the appreciation of where drag originated. Charlotte Hoogenboom, Marymount senior and president of PRISM, a Marymount student organization for the LGBTQ+ community, spoke at the event, "The LGBTQ+ Pride movement began as a form of resistance against oppression, but it didn't just bring a way of fighting back. It brought together a community in celebration of self-expression and individuality. Tonight's drag show is a great example of how art can be a part of that resistance, celebration, community building, and self-expression." 
The show, which was hosted by Marymount alum and successful drag performer Clarice Hart, began with a video from the Black & Latinx Student Association highlighting the oftentimes overlooked black and latinx queer history that paved the way for all future drag performers, especially the ones we know and support today. This was then followed by a moment of silence, performance from Marymount's dance company The Throne, and Drag Trivia before kicking off with the performances and a final dance/vogue off for both the performers and audience members in the Great Hall. 
The event not only allowed space for spreading important information about drag history but it also provided a safe space for Marymount's queer community to celebrate the artform. In fact, this event was Marymount sophomore Kimmi Curcio's first live drag performance. After giving a remarkable performance as David Bowie, Kimmi gave me some insight on some of her favorite things about drag, "I think my favorite part about drag is being able to see gender expression as an artform and as a form of play. I just like to play around with the gender constructs we already have in place and experiment with all of it!" When asked about her experience in relation to it being her first time performing drag, Kimmi verified that although it was scary at first, she felt an immense amount of support from her MMC peers, fellow performers, and Clarice.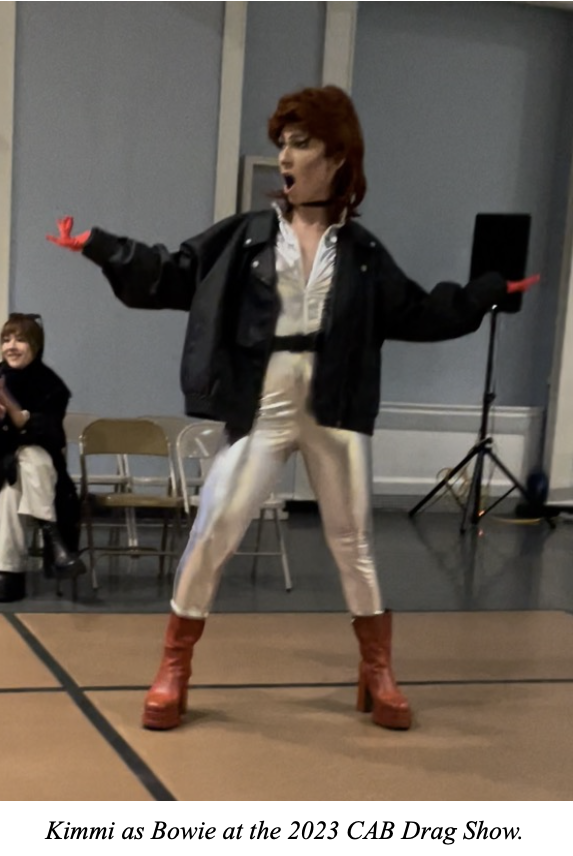 One of said performers also happened to be the 2022 CAB Drag Competition's winner, Liza Tucker, who says, "Drag allows me to express myself in many ways. It is always an amazing experience putting on those 6 inch heels and that sprayed down lace front. Drag allows me to inspire others!" Not only does this space allow for such amazing talent to share their art, but as Liza said so beautifully, it inspires others! Many students find so much joy when they are able to watch their peers do what they love. Marymount sophomore Sophie Tyler, who was an audience member at the event, loves attending shows like this at Marymount, "I'm queer, I grew up very out and about but I have friends in college who did not get to grow up that way. And so I think it's a really nice way to ease people into it in a community where they already feel safe and it's just this extra layer of permission to explore what you want to explore."





Leave a Comment