Semester Two Update of Stand Up, Speak Out Panel + Arts Festival
Reading Time:
2
minutes
Towards the end of last semester, the Bedford Hills College Club here at Marymount hosted a panel and arts festival in the commons on the 71st campus. 
The first portion of the panel consisted of student representative DeSyre Collier giving a presentation on behalf of the Bedford Hills College Club. It consisted of a language guide for communicating about those involved in the carceral system, and informed listeners on what policies and business they should support vs what they should oppose. 
The club also gave a review of the art installation that used to be on the 3rd floor of Nugent Hall here at Marymount Manhattan College, Sara Bennett's "Looking Inside: Portraits of Women Serving Time". 
From 8:15 PM to 9:00 PM, video screenings were shown that were centered around the course Writing About Art at Bedford Hills. 
Professor Erin Greenwell detailed how MMC students on both the 71st campus and the Bedford Hills campus work together to create pieces that "embody academic themes and present a contemporary understanding of classic art". These pieces were presented as dance, video, fine art, monologues, or 2-D animation.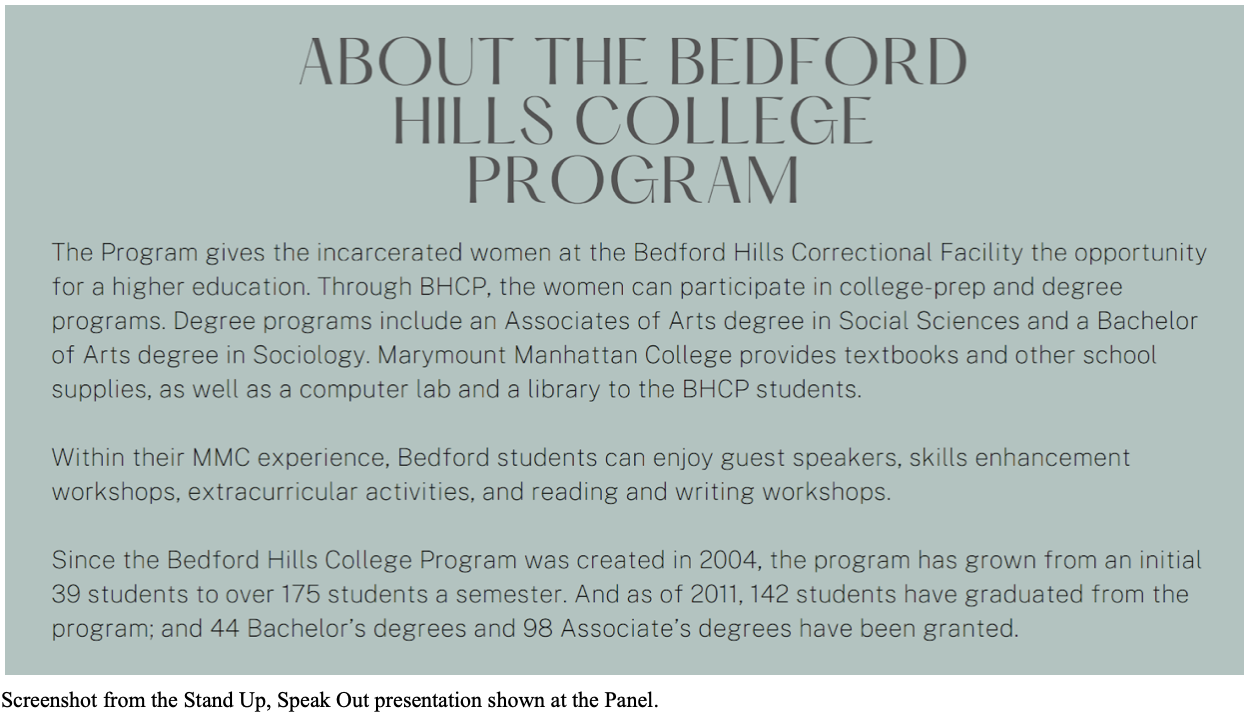 Also, for the first time since in seven years, Marymount will be putting on the Crossing Borders conference at the Bedford Hills Correctional Facility. This is an opportunity for students from both campuses, 71st St and Bedford Hills, to come together and experience creative scholarly presentations and panels. The conference will be on Friday, April 28th, and will go from 9:30am- 3:00pm. Group transportation will be available to and from MMC's 71st street campus. 
Leave a Comment