5 nightclubs in NYC that don't threaten wallets or safety
Reading Time:
9
minutes
Summer's fervor is at long last closing in on New York. The winter has proven long and arduous- our feet are sore, and the ache in our backs seem to have grown more severe in collation with years past. The warmth comes with sanctity for a majority of us. No longer shall we stumble home on shaking legs and frozen toes, or sprint through cutting wind to the nearest train. No more shall we dodge a night out on account of the forbearing weather, or skip the dress to save on shivers. Life in this city is saturated in labor, but around every corner is an evening's reprieve. Summer sends us, as New Yorkers, a signal. A blaring command reverbates in our ears and minds to slip away at the dip of the sun, to a place where the music is loud enough that you become deaf to your own stress. The problem, as it always is, is money. Everyone loves to go out, but no one wants to pay, and the majority of club lines around here end with no less than a thirty dollar entry fee- that is, unless you claim to be a Journalist. 
 It's not a financially intelligent decision to go out often in New York, and in the winter- the majority of us can accept this. With summer's rapid advance, however, the pull outside becomes ever stronger once the clock surpasses ten- and who are we to deny ourselves? The beauty of New York lies in its options. If you don't wish to pay, you don't have to- you just need to know where to look. At the end of the day, you shouldn't be paying just to get in and if you are, look no further. Here are five nightclubs in New York to visit at no damage to your wallet. 
Mehanata Bulgarian Bar: The One that's Almost Free
Mehanata Bulgarian Bar is gritty in the best way possible. It's located in the Lower East side- New York's fulcrum of fabulous freaks, and it provides an evening as deranged as it is sublime. The Vodka is homemade, and so are the majority of the outfits. People dress to express here, and though the crowd is older, they won't bother you for any reason other than to issue a shouted compliment before stumbling on in an inebriated bliss. 

 Technically, it costs ten dollars to get into Mehanata: Unknown to the majority however, is the way around this already trivial fee. Mehanata doesn't state this anywhere online, however, the first fifty people to arrive on any given evening are granted free entry. For reference, the space doesn't get crowded until after midnight- so making it into the lucky crowd doesn't exactly prove to be high stakes. Essentially, should you arrive by half past eleven, a free entry is all but guaranteed. Better yet, if you're bold enough to go out on a Thursday, there's no cover at all no matter what egregious hour you decide to stumble onto the dancefloor.  Should both of these options lack appeal, a chique enough outfit along with a claim of "I forgot my wallet"  will get you around the fee in no time as a last ditch effort. At the end of the day, Mehanata remains inconsistent in their cost of entry, to the point in which it's not entirely certain why they bother with it at all. On any given night, half of the patrons don't pay a dime, for the bouncers seeing you once before is enough to be considered a regular. The best thing you can possibly do to ensure free entry is introduce yourself upon leaving after your first visit. Go on a Thursday, make yourself known, and enjoy vip access from there on out!  
2. The Fleur Room


The Fleur Room is a luxury lounge located on top of the Moxy Chelsea  boutique hotel. It's entirely enclosed in glass, providing wraparound views of Manhattan from thirty five stories up. It's decorated with an array of floral arrangements, hence the name, and proves for a highly aesthetic experience. 
Though the music is nauseatingly mainstream at times, the DJ's make an effort to cater to requests and the atmosphere is enthusiastic. By the end of the night, the majority of attendees can be seen flailing about to the beat, wide eyed and grinning. This being said, with the greater part of the lounge dominated by a palatial array of couches accompanied by sleek tables, the actual dance floor is a bit on the small side. It's likely that you will find yourself fighting for space as the couches empty, and the music grows in vivacity. Rest be assured though, an accidental bump of the shoulder leads to no animosity, and may even result in a new companion of the evening. The people at the fleur room are mostly friendly, but not inappropriately so. Thus, it's not likely that you'll encounter any overly bold romantic pursuits, discomfort, or irritability- even should you uninhibitedly body check someone to the beat of Lady Gaga's "Judas".
Arrival at the Fleur Room, should you get there too early, can be underwhelming. The established routine on most occasions is to sit and relax with your drink, prior to divulging in the action. Thus, the dance floor is typically empty until around midnight. This being said, when the first few people make the plunge, others are quick to follow- and in a matter of moments, civil conversation is absconded in the face of shouted song requests and hollered lyrics as people flock to the parquet with vigor. The music is never outstanding, but as the night goes on, a majority of the suffocatingly mainstream is swapped out for mediocre EDM- so improvement is visible. 
In order to secure a place on the guestlist, it's paramount that you RSVP via Discotech at least a full day prior, as space is limited. Should you fail to do so, it's not uncommon for the bouncers to attempt a charge of over one hundred dollars at the door as a walk in fee. As with the majority of establishments mentioned, you must be prepared in order to enjoy the perks of free entry. 
3. EVOL New York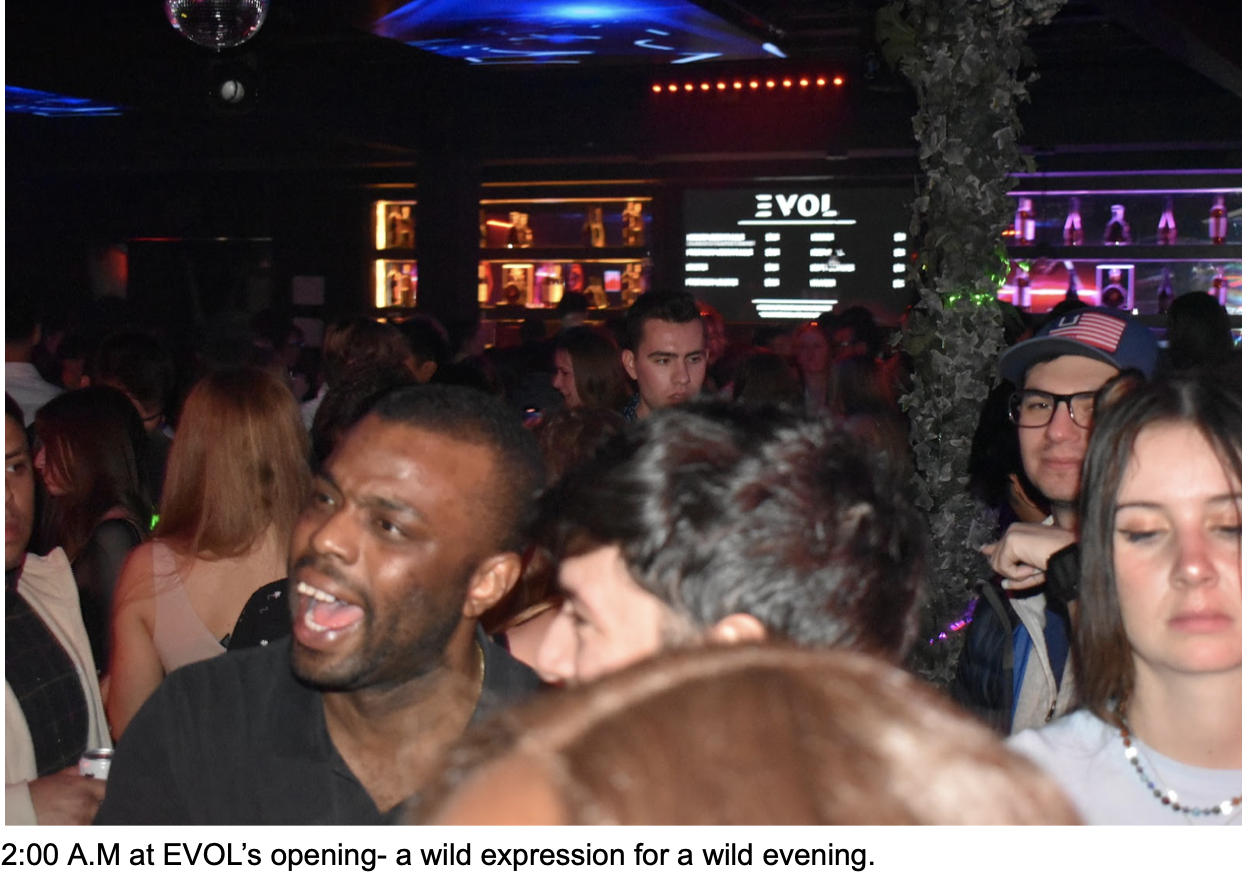 Evol is a newly implemented club located on canal street, directly next to the train station at the corner of lafayette. It's a fairly traditional scene, with lights of red and blue, and a colorful ensemble of retro hip hop and groove bombing across the dancefloor. The majority of the space is conserved for movement, with minimal seating options only available to those who purchase a table in advance. The space contains just one room saturated in sensory experience, and is best fit for those who plan to remain on their feet for the entirety of the evening- absorbing it all. 
Evol can't be found on google maps, nor can it be spotted from the street. It's a hidden gem concealed amongst unassuming corporate architecture and a door lacking a sign. The walk in is almost daunting- given the lack of lighting provided up the three flights of stairs, and the thick and teetering crowd which tends to amalgamate at the top of them. This being said, the precarious seeming journey is certainly worth it for the fulcrum of energy which rests on the other side. 
 Evol's crowd is diverse, but predominantly youthful. There aren't many teens, but rather, folks in their early to late twenties, primarily business types aiming for a colorful respite from their often lusterless workday. Maintaining their own rudimentary attire, these individuals are enthralled by any divergent ensemble they may stumble across, and should you dress the part, you may leave feeling akin to a celebrity. Apart from the startling compliment here or there, however, it's unlikely to encounter any inappropriate advances, given that the great majority just go to dance. 
Entry is free for those who RSVP on the EVOL website, and for everyone who arrives prior to midnight. Should you neglect to RSVP, however, the bouncers aren't entirely against cutting you a break and lifting the rope at the mention of a forgotten wallet, or friends who are already inside. Overall, EVOL provides a conventional and congenial nightclub experience without its patrons needing to empty their pockets. Apart from this, given its vicinity to the train station, the trip home won't require a thirty dollar uber or a half mile trek in the dark. EVOL is accessible, safe, and cheap, and is an advisable option for party seekers of all varieties. 
4. Somewhere Nowhere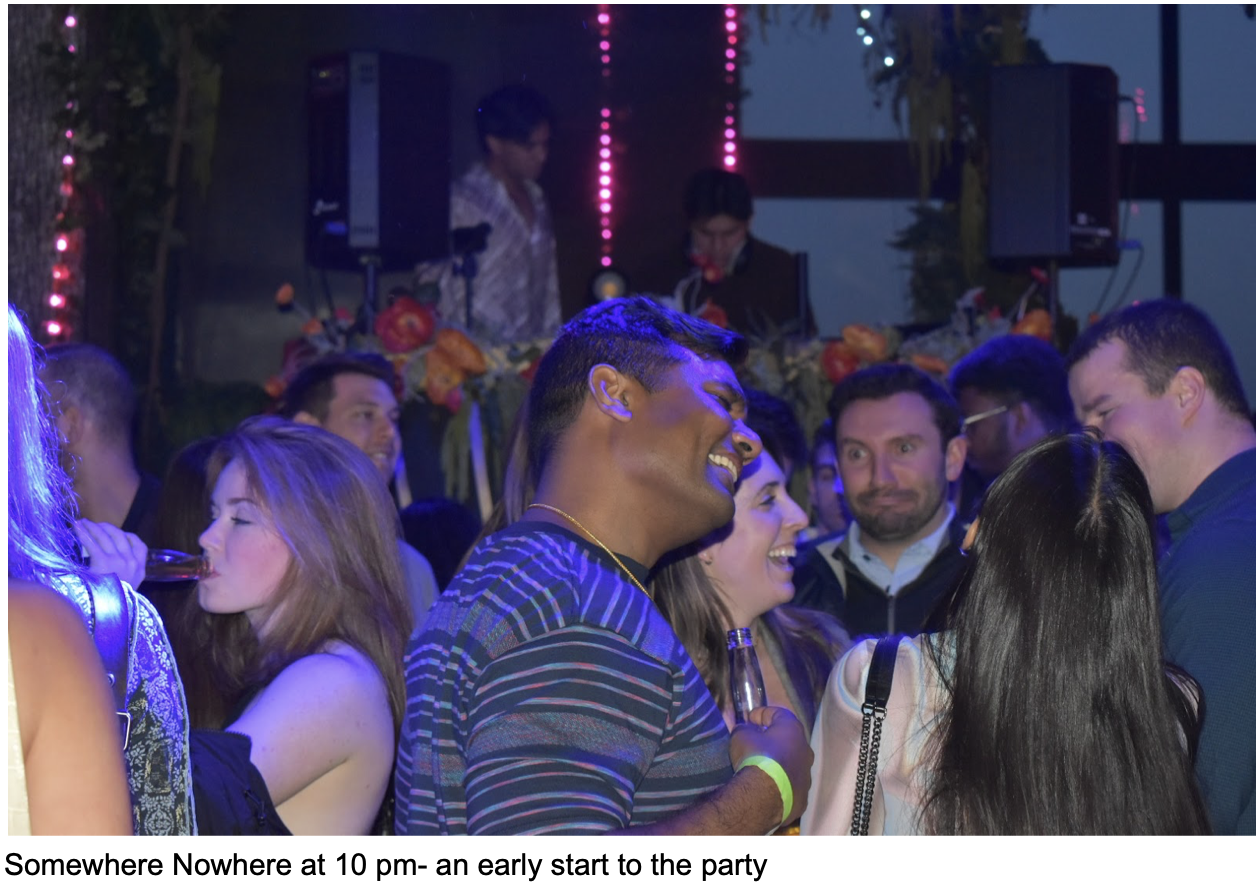 Somewhere nowhere is a two story lounge located atop the Renaissance New York Chelsea hotel. It offers a variety of delicious food, drinks, and a speaker system with a supple enough base to create waves in the pool on the roof. Entry is free following RSVP on the app discotech, which can typically be done up to a few minutes prior to doors opening.
The space holds immense potential, but never develops a substantial enough crowd to bring out its charm. The reason for such is uncertain, given that prices on food and drink are fair, and the music, though not outstanding, is certainly danceable. The Emptiness of the lounge proves to dampen the energy of the evening, and though showing up with a group of friends can work to alleviate this, there's a sort of eeriness that comes with being the only people on a dancefloor meant to be teeming with life. 
The safety aspect of somewhere nowhere is perhaps one of its strongest points. No one will approach you, in any way shape or form. There is an unspoken rule that you'll stick with whomever you arrived with, and branching out is unheard of. While this makes for an evening free of obnoxious admirers, it also makes for a fairly dull one. Conversation is stifled, and with it, entertainment. People seem to go out here in order to check the box for a Friday evening at the club. They arrive early, and leave early without doing much more than downing a cocktail and taking some photographs for instagram. 
 The included photographs capture the space in its best light, but it's worth mentioning that they were taken around ten pm- after which point the club went from semi lively to entirely stagnant. Overall, Somewhere Nowhere serves as an excellent place to begin the evening, however, the desire to stick around grows scarcer by the day.
5. Le Bain: The Best Option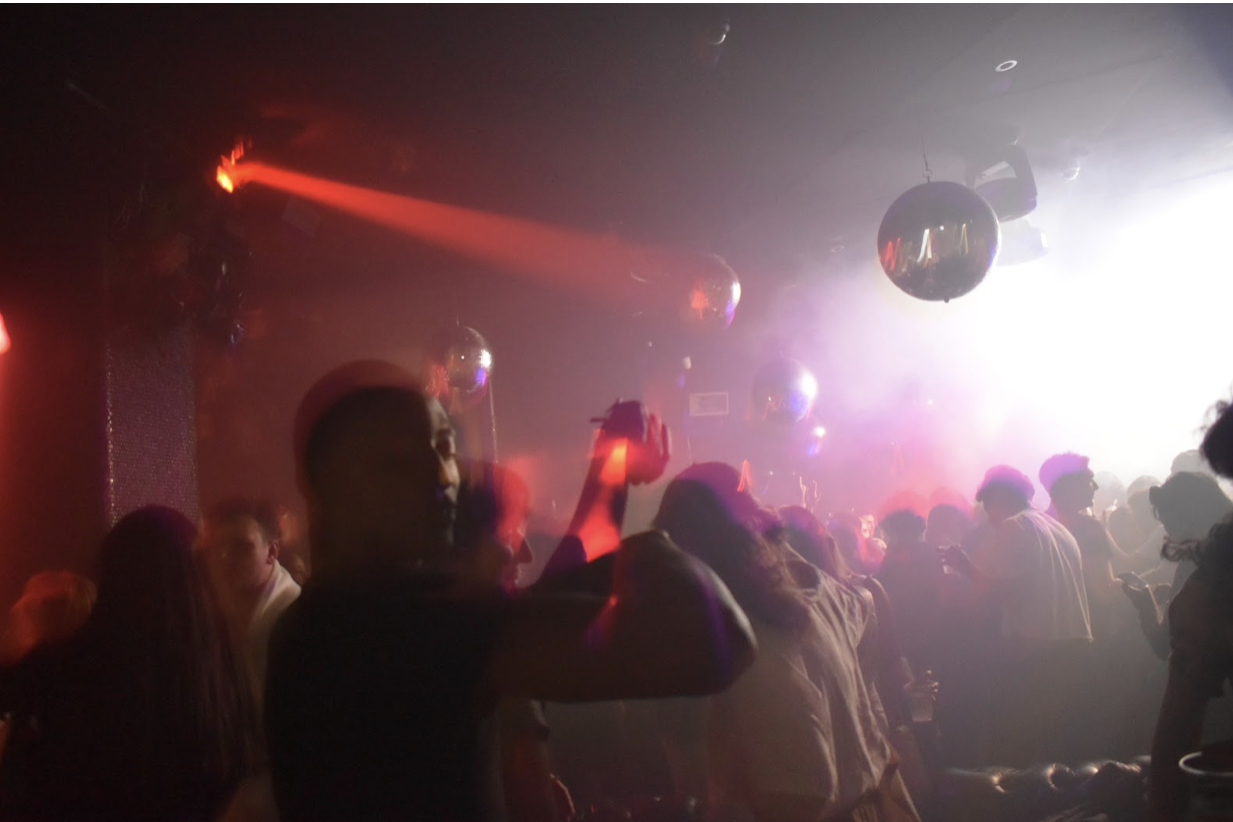 Le Bain is a personal favorite. It's a french touch EDM rooftop located in the meatpacking district, in which one may enjoy 360 views of Manhattan tipping off into the Hudson, to the gripping beat of timeless euro favorites. The club boasts two dancefloors, an indoor pool, as well as an expansive rooftop lounge with a separate outdoor bar and creperie. The crowd is friendly, to the point in which the only thing superior to the music downstairs are the conversations. A cigarette request could produce a new friend in moments, and as the night goes on, the roof is known to go from sparsely populated to reverberating with life and new connections. 
The primary patrons at Le Bain consist of foreign exchange students, to the point in which the melodic lilt of varying European accents tend to outnumber those of the flat, droning American variety. Here, a ten minute chat results in an expanded worldview, as companions of the night offer samples of their lives up on a platter. There is an understanding at Le Bain that though we may all be fish from different ponds, we have converged in the most expansive one in the entire world. Everyone is up there for the same reason, and this is a colorful reprieve from the day to day- whatever it may entail. 
Entry to Le Bain is entirely free following RSVP via the app RA Guide. In the case of a forgotten RSVP, they also allow an abundant number of walk-ins on the majority of evenings. The crowd is youthful and doesn't trigger apprehension, and while the handful of overly bold flirts do exist, they're not pushy. Le Bain seems to bring about sincerity in those who let themselves be temporarily absorbed by it. People will verbalize their most staunch truths at the drop of a hat, and though it's clear that the abundant supply of fairly priced, strong drinks come into play with this- there is a certain beauty in the earnest nature which the atmosphere of Le Bain brings about. If someone likes the way you look, they're more than willing to bite the bullet in terms of discovering whether the feeling is mutual. If it's not, no one is hurt. There is a suffocating humanity, an understanding between all of their own fickle nature. Rejection is merely a lack of alignment- one which is taken into account but not dwelled upon. Essentially, no one is truly going to bother you unless you bother them, or humor their attempts, and should you alert them it is indeed time to screw off, there's no mortification left behind. 
 Le Bain is an establishment which will leave you baffled at its accessibility. It boasts the same amenities as a variety of exclusive clubs across the city, but while the majority charge anywhere from twenty to two hundred dollars to get in, it's entirely free. Though a guest list does exist, anyone can make it on, and as discussed prior, the requirement for such is never set in stone. You don't need to know promoters or employees, but should you get to do so, it's likely you'll skip the line entirely to get in. The bouncers put on an expression of ferocity to ward off the teenagers, however, a quick chat will prove that they're all highly amiable, and if they know you they'll always put in the effort to make your night out as convenient as they possibly can. On crowded nights, it's not uncommon to see the host perusing the long line for familiar faces, whom he ushers to the VIP line with a sly grin and a handshake. If you don't feel like waiting for him to come get you, however, just walk directly up to the second door to the left of the line, and you'll be greeted with enthusiasm and a rapidly lifted rope. Le Bain offers an immense level of gratitude for its regulars, and staff will do the best they can to offer an experience to keep them returning, weekend after weekend. This integrity is at the core of their business approach, and it's refreshing to see a New York night club with arms so incredibly open to all who wish to enjoy. 
Leave a Comment