'Come From Away' Brings History To The Stage
A Musical that Offers Love From a Tragedy
Reading Time:
3
minutes
"Welcome to the Rock!" That is the call of twelve talented actors who have the daunting task of portraying nearly 7,000 people who were stranded in the tiny town of Gander, Newfoundland (the so-called "Rock") after the events of September 11th, 2001. In Irene Sankoff and David Heins' emotional, provocative and funny musical Come From Away, these twelve actors not only successfully tell the stories of these half-forgotten travelers, but also connect the audience to those stories in an incredibly meaningful way. By the time the final curtain falls, we feel that we know every single soul impacted by this tragedy almost as well as we know ourselves.
Come From Away opened on Broadway in March of 2017 and has been captivating audiences ever since. It is a deeply human tale, and script, loaded with sly humor even in the midst of darkness, helps the audience stay connected to the characters.
In a sweeping score described by the musical's official website as "Celtic folk-rock," the residents of the tiny town of Gander sing of their love for their small-town lives and their proud identities as islanders. The music is a driving, rhythmic force behind the story, the singers accompanied by an onstage band consisting of guitars, accordions, varied percussion, and the occasional thrilling trill of Irish fiddle. 
Over the course of the show, we meet these charming residents experience their shock and horror at the events occurring in New York and see the moment they learn that 38 planes, all full of frightened, confused passengers, will soon be arriving in their tiny town. It is at this moment in the story that the brilliance and versatility of the twelve actors shine through; suddenly they must leave their small-town personas behind and become a fascinatingly diverse cast of characters from around the world. One might think that such a shift would be confusing for an audience, especially when Gander's residents interact with the "come from aways" (the outsiders who they welcome with at first tentative, but still staunchly open, arms). However, the actors handle their many roles with aplomb, differentiating between characters with stunning clarity.
Bruce Dunn, a retired air traffic controller who worked at Colorado's Denver Center in 2001, confirmed that the sense of community, grace, and kindness during a crisis that is portrayed in Come From Away was felt all over the country. "There was a spirit of cooperation that day that didn't exist in previous times or events," says Dunn. On an average day, he explains, "you'll have to talk airplanes into doing things they don't want to do — and on a normal day, they would question what you're doing. And sometimes it would get a little… discourteous." However, "the spirit of cooperation that day was unparalleled, unequaled if you will, and I'm not sure we've seen it since. Things have gone back to relative normal. And that's ok." It is this spirit of cooperation that Come From Away focuses so beautifully on; it is not a show about the horrors of 9/11, but instead about the compassion that can come from pain. 
In only 90 minutes (with no intermission), Come From Away carries the audience through two weeks full of both chaos and clarity. It focuses refreshingly on the interactions between human beings, all of the small connections that were formed in the midst of this calamity. 
"Even though I haven't seen it, I basically know what it's about," says Dunn, "It happened in small towns throughout North America. Because what it's about is the beauty of a small town coming together to take in thousands of people because of an unbelievable, incredibly horrific event. And it's such a great testament to the human spirit, in so many ways." This, truly, is what Come From Away is: a magnificently written, flawlessly performed testament to humanity's capacity to come together and create love and community out of what was once only tragedy.
Leave a Comment
About the Contributor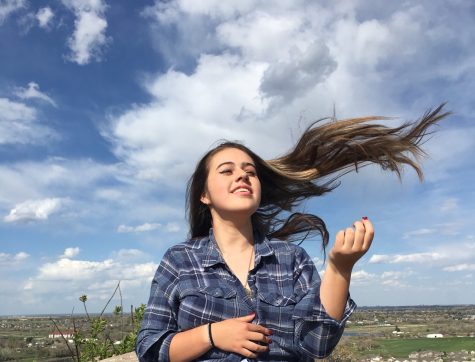 Elena Maldonado-Dunn, Proofreader, Staff Writer