Tips to Get Through Finals
Reading Time:
3
minutes
With Thanksgiving falling so late this year, the end of the semester (or #FinalsSZN) has snuck up on us quicker than we ever could have imagined. One minute we were all relaxing with our family and friends, and the next we were all buried in work. It seems like no matter who you ask, no matter what major, everyone can barely think about anything else besides their never-ending list of assignments, which probably looks longer than their Christmas list. 
On top of cramming schoolwork, we also have the holiday season coming at us in full force. It's hard to get excited for such a cheery time of year when your brain is at capacity with school projects, finals, and papers. However, these tips will help you organize your headspace to make the end of your semester run as smoothly as possible:
Tip #1: Organization
The first step to easing stress is organizing and prioritizing the things you have to do. The easiest way to do this is to physically write down what needs to be done in a planner or simply on a piece of paper. Studies show that writing things down makes remembering things easier, so this will help eliminate the possibility of forgetting an assignment. Putting your thoughts into the physical world by writing them down is also said to relieve stress by taking the burden of remembering off your shoulders. 
Tip #2: Prioritizing
After writing everything down, it is important to prioritize what you need to do. Assignments that hold more weight or are due sooner should come to the forefront, taking priority over smaller assignments and those that take less time. Creating an order of how you will complete assignments will make the process of getting work done smoother and more efficient.
Tip #3: Time Management
Since we are a liberal arts school, on top of papers and presentations, we are also assigned projects that use certain materials or programs that are not accessible to us. With these assignments, it is important to budget your time wisely and set aside certain days and times that are dedicated to these projects. Giving adequate attention and work to these projects will ensure that you are putting your best into your work and allowing time to edit them to perfection.
Tip #4: Find a Focus Place
Being in such a busy city, it can be hard to find a tranquil headspace to be able to focus on finishing up the semester. Finding a niche where you can exist peacefully can be a fun opportunity to explore your surroundings, while also finding out a lot about yourself mentally. Whether it be in a cozy coffee shop, a library, the lounge in your building, it is figuring out where you feel focused and what type of environment you thrive in intellectually.
Tip #5: Personal Care
With all of this work, it can be hard to put yourself and your body second. However, taking care of yourself is what will help you to function to the best of your ability. Making sure you are eating good, hearty meals at proper times will make sure that you are energized and alert, making your brain work at its full capacity. Getting adequate amounts of sleep will also help you feel rested and less groggy when looking at a computer screen doing work. Drinking lots of water will also prevent headaches, which normally come with doing work for long periods of time. 
Tip #6: IT'S NOT THE END OF THE WORLD
The important thing to remember through finals season is that it does not last forever, your life doesn't depend on it, and you will get through it. All that matters is that you know you gave your all to do your own personal best, which can differ greatly from someone else's personal best. Don't compare yourself to others, this is a time to focus on you and finishing out YOUR semester with a bang!
Leave a Comment
About the Contributor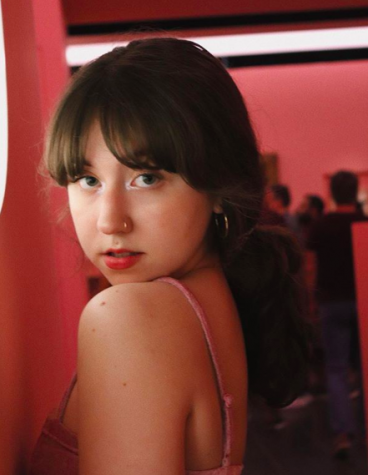 Gwen Attridge, Staff Writer