Relationships in Quarantine
Reading Time:
4
minutes
A typical Friday date night out on the town has now turned into a night on the couch with a bucket of popcorn and a soda to set up a Zoom date with your partner. As a veil of quarantine mandates has covered the globe, many people in relationships have been forced to go digital. Long-distance relationships are not unusual for a lot of couples, but dating apart as an act to keep the community safe is very unusual.
Although a test of love in Jane Austen times would've been getting a painting made for your beloved, now the test of love is surviving the quarantine. Whether you are self-isolating with your partner or testing the waters of a long-distance relationship, it is tricky to balance and adjust to. It is important to maintain a sense of normalcy in stressful times like these, so finding methods to make the time pass by faster and to still keep up good communication is key.
Many couples and friend groups have been meeting up on Zoom or FaceTime in order to talk to people outside of their immediate location and to share a sense of solidarity in their quarantine experiences. Finding a new TV show or movie to watch with your partner is the perfect date night. When you create a session in Zoom, you can share your screen and watch the show or movie with your partner. Dressing up or getting snacks is also fun to imitate what a usual night with your partner would be.
Besides watching TV shows and movies together, you could also play online games together. There are a lot of free games to download, whether it be chess or poker, or playing card games such as Truth or Drink in a group Zoom. Most people aren't doing anything too exciting throughout the day so it is hard to catch up with friends or partners when there is nothing new, so playing games to interact is a good way to keep a positive spirit. Cooking is a big part of our days now, so why not get on a video call with your partner or friends and cook with them. Banana bread seems to be a trend at the moment and there are thousands of recipes out there, thus making the perfect activity to share with someone. Cooking and eating with people is a huge part of many of our lives, and not being surrounded by the people you usually have meals with can be a major adjustment. Some professors are even setting up lunch zoom meetings with their students to catch up and to offer interaction with people besides those they're living with. Perhaps setting up a lunch call with your friends a few times a week will allow you to have a sense of structure to your day.
Virtual book clubs are on the rise since more people have time to read. Marymount Manhattan College's Student Development and Activities are meeting up for a virtual book club on Mondays at 6 pm to discuss Little Fires Everywhere by Celeste Ng. It is often easy to let the days pass by without doing anything productive for the mind or body, which makes a book club the perfect option to take your mind off of things. Plus, by joining a virtual book club you will have the chance to meet new people while relaxing in your room. All the books hiding away on your shelves finally have a purpose; pick up a book and read.
Museums are also embracing these times by uploading free virtual tours on their websites. All over the world, museums are offering virtual tours, such as the Louvre, The MET, The Art Institute of Chicago, The J. Paul Getty Museum in LA, The Tate Museum in London, and even The Rijks Museum in Amsterdam. Scheduling dates and sticking to plans is crucial right now because it breaks up the monotony of our mundane everyday tasks. Sharing a night at the virtual museum with your partner will be able to keep the feeling of a date, while learning new things and seeing new art.
Other than missing dates with your partner and brunches with your friends, many people are missing out on proper birthday celebrations, anniversaries, and even weddings. People have found ways to still celebrate with their friends. Recently, a video went viral of a girl standing outside of her house to see a handful of her friends driving down her street to wish her a happy birthday. Staying the essential 6 feet away, they had signs and even presents to make sure their friend still felt celebrated. Even though a birthday or celebration isn't on the forefront of a lot of our minds right now, it is still important to keep in mind that it is disappointing to not have plans work out the way you thought they might- and that is okay. Every single relationship and every single person across the globe is being affected by this pandemic in one way or another. It is crucial to keep a positive outlook on the future and to keep a humble and sensitive outlook. As Bernie Sanders says, "Not me, us," and that perfectly highlights what our outlooks should emanate right now.
Although it hurts to be away from the ones we love, it is important to think about the feelings of reuniting with those loved ones after we are in a safer environment. This pause in society and humanity is a moment for us to gain strength and come out of this healthier, stronger, and better together.
View Comments (2)
About the Contributor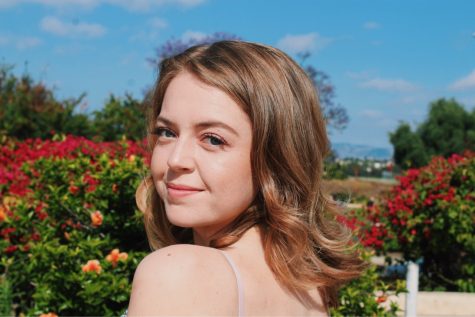 Averee Nelson, Digital Managing Editor, Staff Writer