What Are Your Plans for Halloween this Year?
Reading Time:
2
minutes
It is officially the Fall season and you know what that means? Pumpkin spice everything, cooler temperatures, autumn decorations at every store, for those early Halloween lovers spooky decorations get put out, and horror movies are on repeat on your TV. 
As some may know Halloween or All Hallow's Eve is a holiday that originated from a Pagan religious holiday that is celebrated at Celtic festivals where they would wear masks to ward evil spirits and light bonfires. According to History, "Celts believed that on the night before the new year, the boundary between the worlds of the living and the dead became blurred. On the night of October 31, they celebrated Samhain, when it was believed that the ghosts of the dead returned to earth." 
In the present day, it has turned into the one time of year, as a child, where you can dress up as anything you want and beg for candy. Being able to binge all your favorite spooky movies and/or TV shows, and party all night under the full moon.
Madelyn Brian, MMC sophomore, expresses her and her roommates'  love for this holiday through movies. "We are both film students and our favorite genre is psychological thrillers…having the seasonal theme behind it makes it more special to watch and enjoy," she exclaimed. 
The sweater weather season allows people to celebrate Fall in different ways, but for some, it gives them the chance to get a head start on celebrating Halloween for as long as they can. Halloween is the one holiday that allows you to show off your weird and spooky side without being afraid of being judged. Allowing to truly be free and be someone entirely different for the day. 
Jillian Andolina, an MMC sophomore, appreciates how the cozy season is different from a small town to a big city. "I think that living in a small heavily wooded town may have helped me with my love for this season..the leaves were so pretty in the fall and I loved walking home from school or going for hikes," she said. 
Since the pandemic happened last year people were not able to celebrate and enjoy the season fully, but now with "55% of the population are fully vaccinated for COVID-19," in accordance with ABC10 we can get back to some normalcy. 
Serena Weiss, MMC Senior, is excited about the normalcy this year because this holiday is a very special one for her and her family. "I feel comfortable knowing we are closer to some kind of normalcy. Halloween is a very important holiday in my family, my mom gets a couple of new decorations every year because we have people that drive from other towns to come see how scary our house is on Halloween…. It is also my grandfather's birthday so we always have a huge Halloween-themed family dinner and it's not a huge holiday spent with family so that just makes it better because family means the world to me," she exclaimed. 
However you are planning on enjoying this special holiday, remember this is the time of year to truly express who you are and be somebody new, so go for it, and enjoy the little things that make you happy about everything this season has to offer! Just always remember to follow CDC social distancing regulations.
Leave a Comment
About the Contributor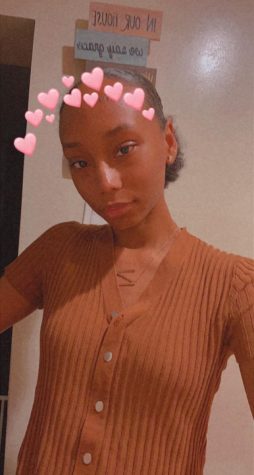 Najla Alexander, Crime Reporter/Features Editor
Najla Alexander is the Features Editor and Crime Reporter for The Monitor. She is Majoring in Digital Journalism and Minoring in Forensic Psychology. Her...