The Influence of Black History and Commercialized Fashion at FIT's Fresh, Fly, Fabulous: 50 Years of Hip Hop Style
Reading Time:
3
minutes
Inside the Fashion Institute of Technology's Museum at FIT, holds vintage apple bottom jeans, Deaf Jam University jeans, and nails worn by Cardi B. The large Fresh, Fly, Fabulous: 50 Years of Hip Hop Style exhibit is curated by Elena Romero, assistant professor of Advertising and Marketing Communications, FIT, and Elizabeth Way, associate curator of costume, MFIT. The exhibition is designed by Courtney Sloane Design. The production showcases some of hip hops most famous clothes while giving the audience a lesson on the influence of celebrity style and the expression of Black pride. 
While much of fashion revolves around the designer, fashion as a cultural industry views the designer, the manufacturer, the retailer, and the consumer as an everchanging mix of importance to the fashion industry. Yes, mass production is a large part of fashion, but so is economic decision-making. The consumer has a large say in what is popular, thus influencing fashion, just as the economy has a large hand in influencing the consumer, while designers influence the industry. Viewing fashion as a cultural industry takes the pressure off of designers and Fashion with a capital F, and more onto the flow of consumerism, the economy, social standings, and trends. It's a much less cut-and-dry outlook on how the consumer interacts with the fashion industry
Subculture and celebrity influence come into play with many of the featured clothing such as Fresh, Fly, Fabulous: 50 Years of Hip Hop Style. Much of Black street style and hip-hop fashion was created out of other music genres such as disco, rhythm and blues, jazz, and rock and roll. All of this eventually gave way to new subcultures, such as Afrofuturism, Afropunk, and Hypebeast. Dapper Dan is a great example of an artist that exemplified the hip-hop culture in Harlem. He made custom pieces for his clientele using screen-printed designer logos. At the time, Black clients could not readily access designer goods, regardless of money or celebrity status. He baked his work off of "hustlers and street people" with his use of fur and accessories like hats and parkas.
We see similar themes from Russel Simmons when he launched Phat Farm in 1992 which helped break the stigma surrounding Black-owned streetwear within the fashion industry being irrelevant. With the success of Phat Farm becoming a huge pop culture press moment well known amongst celebrities, Simmons went on to launch the Def Jam University clothing line which recruited label artists from Def Jam as its models. With more celebrities popularizing street fashion in BET music videos, fashion shows, and films like Spike Lee's She's Gotta Have It, street fashion became a huge part of fashion for everyday people as well. 
Fresh, Fly, Fabulous: 50 Years of Hip Hop Style celebrates the relationship between hip-hop and fashion. Identity and history play an integral role in hip-hop and fashion. For women in hip-hop, nails, and accessories are just as important as any other clothing item in defining their style. Long, big statement pieces that were originally worn amongst average people as streetwear quickly made their way into mainstream fashion through all different kinds of media. Artists like Jenny Bui (The Queen of Bling), Russel Simmons, Camille Wilkinson, and Omar Jermaine based their work on the way that average Black dress looked and then commodified it through music and television. 
There's also something intriguing about being in front of a famous Met look or a Grammy look and knowing that something your favorite celebrity has worn is on display in front of you. That is missing from the digital experience of seeing it on Twitter or Instagram and it's worth it to see exhibits like this in person.
Overall, the Fresh, Fly, Fabulous: 50 Years of Hip Hop Style exhibit is an example of different subcultures that have influenced every part of how people throughout history have dressed. Something as small as street style can grow to be as large as commercialized fashion and change the options we have for clothing, the way artists express themselves, and the way buyers engage with the fashion industry. 
"Fresh, Fly, and Fabulous: Fifty Years of Hip Hop Style" is now open through April 23, 2023 
Leave a Comment
About the Contributor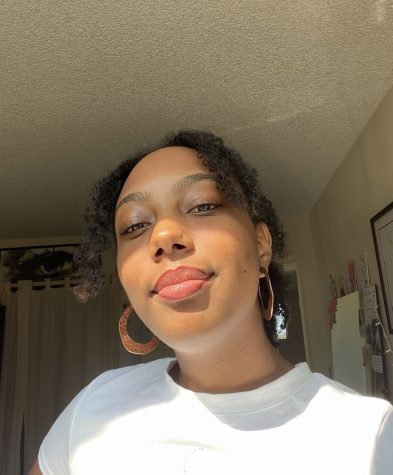 Rayiah Ross, Social Media Manager
Rayiah Ross is a senior majoring in digital journalism and minoring in creative writing. She has a focus on cultural criticism and social commentary.