Marchael Giles Discusses Presidential Position, Security Threat
Get the Scoop on MMC's SGA President
Reading Time:
4
minutes
In the midst of the events that took place last week, the community at Marymount turned to each other. From emailing Kerry Walk, to calling campus security, to speaking directly with student leaders. Marchael Giles, president of the Student Government Association, stepped right up to the task of his relatively new role. Giles is a senior theatre performance major, originally from Bayshore Long Island, who now splits his time between New York and Texas. Despite the school closures and busy schedules, Giles still found the time to sit down and discuss the events of last week as well as provide an inside look into who our President is. 
The decision to attend Marymount was not taken lightly by Giles, who took the time to visit both Marymount and traditional state schools while asking himself, "Do I want a college experience, or do I want, for lack of better words, a more adult experience?" Giles, like many students at Marymount, has embraced the non-traditional structure of this school. While he has the ability to have traditional college experiences, Giles doesn't consider it the forefront of Marymount. "I'm more of a person that is driven toward what they want to be in life instead of doing things that will make me happy in the short run." Which is why he thrives in the environment of Marymount, where people are working towards what they want to do in life. In addition to the drive, Giles also appreciates the passion of the Marymount community. "It's a very nice thing to know that a good majority of us can have open discussions about anything,"
Giles describes his time at Marymount as interesting, "I've experienced so much life in the three and a half, four years I've been here in a magnitude of different ways". When asked about one of his favorite memories at Marymount, Giles recounted one that some Marymount students may be able to relate to. "I had that actor debacle that every BFA actor at this school ends up having … you realize that you're rolling on the floor screaming… everyone kind of has that moment where they're laying on the floor and you're like "What the hell am I doing?" Giles has learned from his highs and lows. While he chooses not to focus on the negatives, he recognizes that they help him to grow. It was through this reflection that Giles realized how much he enjoys helping people and working for the benefit of others using the power that he has. 
Giles considers one of the best lessons he's learned at Marymount to be, "If you want to see something done you have to do it yourself". Giles stayed true to this lesson when deciding to run for president of SGA."There were so many things that were happening in the school that were affecting my identity" Giles also spoke about others who had similar identities as him who weren't speaking up, but instead confiding in him. He recognized that he was involved in this school but did not yet have the power to assist people with their issues, but realized that he wanted to, and so he decided to run for SGA President. 
"In the last four years I've been here there's kind of been a movement for the students to speak up and have their voices heard." Giles considers this paramount in letting the higher-ups at Marymount understand student concerns and ensure that change gets made. 
"
"I'm not just gonna talk about it, I'm gonna be about it". "
— Marchael Giles
"I wanted to really focus on the three main things that SGA says they're going to focus on in our constitution. That is increasing student engagement, fostering a real community at MMC, and creating avenues for students to become student leaders". Giles also wants these goals to result in creating a bigger pool of social change-makers. Recognizing that Marymount doesn't have the same tools that other colleges do, Giles took a hard look at the school, the population, and the world we live in now to figure out what he can do to improve those three tenets of SGA. 
Giles emphasized increasing student involvement, but doing it in a way so that it's not pigeon-holing anyone or putting them into boxes. "Because I'm a theatre major, a lot of people could assume that I'm going to just act for the theatre majors." While Giles is aware of certain differences between theatre majors and non-theatre majors, he has every intention of gearing his actions as president towards everyone. 
Giles passion for student advocacy was made apparent in light of the recent events taking place at Marymount. In response to the confusion and flurry of student questions, Giles sent a strongly worded email to President Kerry Walk urging for stronger security measures and emphasizing how the Marymount community felt stripped of it's safety. A copy of the message was posted on Giles personal Facebook page on behalf of Marymount SGA. Kerry Walk indeed received Giles' email and thanked him for his timely and helpful questions, which Walk relayed to the team that coordinated the response to the security situation. Walk responded to Giles, "…your sense of the student body's concerns has been especially important to us, given your role as SGA President and your personal sensitivity to student interests and anxieties". 
In addition to the SGA goals that Giles hopes to accomplish this year, he hopes that students can truly gain a lot during their time here. "I want students to leave better than what they came in as, to leave here ready to make a real serious change in the world, no matter what they're doing for the better." When asked what he wanted students to know about him, he addressed his "RBF". "I want people to know that I'm not always angry. I'm approachable, you can talk to me." 
Giles invites students to attend SGA meetings and email [email protected] with any questions or concerns they may have.
Leave a Comment
About the Contributor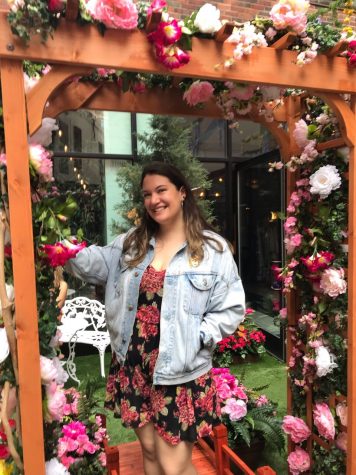 madeline nortz, Staff Writer
Class of 2020
Madeline Nortz is a senior majoring in Strategic Communications and Public Relations with a minor in Digital Journalism. She previously...