A Brief History of "Karen" and Its Impacts
Reading Time:
4
minutes
We've reached a day and age where the name "Karen" can spark an image into your mind. "Karen" is no longer just a name, but rather a moniker for any white woman who's thought to be acting in an inappropriate or rude manner. This idea has been so ingrained into our minds that data from the Social Security Administration confirms that the name Karen is declining in popularity in the U.S. It seems that associations with controversy, disaster, or mass murder can cause American names to fall in popularity, which is also the reason we haven't seen many Katrinas or Adolfs in recent years. 
The "speak to the manager" haircut became its own meme before the "Karen" character took hold on the internet. The most infamous example of the haircut in real life was worn by Kate Gosselin of the popular mid-2000s reality show "Jon & Kate Plus 8." Photos of her went around with her in a side-swept bob in the front with much shorter hair in the back and the rest was history. 
According to Know Your Meme, the joke was first posted on Reddit in 2014. Between 2016 and 2017, that idea began to spread throughout Reddit and onto other social media sites. Alongside that, the Urban Dictionary definition of "Karen" first appeared in March 2018.
What originally started out as a meme that mostly held the connotation of middle-aged white women that want to speak to the manager, quickly became associated with real-life people. All at once, there seemed to be a wide array of "white cop-caller nicknames."
In 2018, Jennifer Schulte was dubbed "BBQ Becky" after she was filmed calling the police on two black men who were using a charcoal grill to cook up some meat at Oakland, Calif's Lake Merritt's designated grilling zone. That same year, Alison Ettel, also known as "Permit Patty," threatened to call police on an 8-year-old African-American girl selling water on a San Francisco sidewalk. Just earlier this year,  a white woman who called 911 on a black dad at a football match, while sitting in a golf cart, was called "Golf Cart Gail."
These memes about rude white women seemed like an interesting way to label and pick fun at discriminatory and racist people, but it doesn't act as a catch-all for all middle-aged white women that are dangerously using their power in public.
The Central Park bird watching incident was a confrontation on May 25, 2020, the same day of the killing of George Floyd by the Minneapolis Police Department. Amy Cooper, a white woman walking her dog, and Christian Cooper, a black birdwatcher were both in New York City's Central Park. Amy's dog was unleashed in the Ramble, an area where leashing is required. When Christian beckoned the dog toward him with a dog treat, Amy yelled for him not to touch her dog. Christian started recording Amy who was not gentle with her own dog as it hung by its collar in a choking manner and ultimately placed a call to 911. 
In the video released online, Amy Cooper is heard saying "there is a man, African American, he has a bicycle helmet and he is recording me and threatening me and my dog," as well as "I am being threatened by a man in the Ramble, please send the cops immediately!" The incident received wide publicity when the video went viral in the hours following the event. Soon after, the Manhattan District Attorney announced that Amy Cooper had been charged with filing a false police report and earned a misdemeanor with a penalty of up to one year in jail.
The difference between this incident and the other "Karens" that went viral online is very important. Amy Cooper explicitly threatened a black man by calling the police and making a false accusation that the video proof immediately debunked. This incident, putting black lives in danger, is not a funny meme about white women wanting to speak to the manager or being upset about a parking space. This was a racially charged and racist act and calling Amy Cooper a "Karen" separates her from her malicious act. Amy Cooper did this and not "Karen."
In response to these types of video's, The "CAREN Act" (Caution Against Racially Exploitative Non-Emergencies) was introduced on October, 20th at a San Francisco Board of Supervisors meeting by Supervisor Shamann Walton. The name of the active works as a nod to a popular meme using the name "Karen" to describe an entitled white woman whose actions stem from her privilege, such as using police to target people of color.
Other cities have already begun the process to pass similar legislation. In 2018, former New York state Sen. Jesse Hamilton proposed a bill after a woman called 911 on him for campaigning, which would require the local district attorney to investigate these incidents as hate crimes. If the calls were deemed racially motivated, a number of consequences such as fines, sensitivity training, or jail time would be issued. The City Commission in Grand Rapids, Michigan also held a public hearing that criminalized racially motivated calls to 911 with a fine of up to $500. Los Angeles City Councilman Curren Price introduced a similar motion to the City Council in June exploring "criminal penalties, rights of victims to bring private civil actions and cost recovery by the City," he tweeted.
The CAREN Act is one step in the right direction to stop racially motivated calls, but the power truly relies on what we, as an audience, a friend, a bystander, and social media consumer will put up with. The name "Karen" has impacted the way we see racist white women and it's become so much more than a meme the same was social media is more of a tool than it is a series of apps. The real question is: what are you going to do with this newfound power?
Leave a Comment
About the Contributor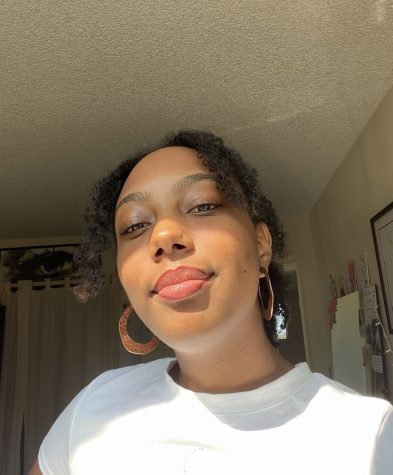 Rayiah Ross, Social Media Manager
Rayiah Ross is a senior majoring in digital journalism and minoring in creative writing. She has a focus on cultural criticism and social commentary.