Cheap Things to do in NYC
Reading Time:
4
minutes
Having fun in New York City can feel impossible if you're on a limited budget, the inability of it all is even worse as a college student. New York City is among the most expensive places in the world to live or to visit with rent at historic rates and 1.5 million New Yorkers living below the poverty level. According to the Economic Policy Institute, a single person in New York City can expect to spend an annual total of $51,323 on necessities. Costs in this calculation include housing, food, transportation, healthcare, other necessities, and taxes, not including savings or discretionary spending. This also doesn't account for being a college student in the city that has to pay for tuition, books, and other academic necessities. So the millions dollar question for new students in the city is how do I find inexpensive things to do without breaking the bank? The good news is, while NYC is rich in people, it's also rich in free iconic sites, cheap down-to-earth diners, and tons of affordable hidden gems. So grab a Citi Bike, throw on your walking shoes, or whip out your Metro card and check out some of these budget friendly places. 
Eat Your Heart Out With NYC Pizza
New York City is filled with pizza snobs. Everyone thinks they know the best pizza, the cheapest pizza, and the most underground pizza (sometimes literally if they're talking about Turnstyle Underground Market). Now, patrons of NYC can argue all they want, but all it means is the opinions for pizza are endless. From dollar slice pizza to high-end 20 dollar pies, finding your new favorite pizza is a great way to pass the time and learn all about the culture of NYC pizza.
If you want to see beautiful artwork for a fraction of the cost, it's important to look out for free museum days or pay-what-you-wish options. Tons of the city's premier attractions, museums, galleries and performances offer discounted entry on select days of the month or evening hours every week. For a list of some free/discounted dates click go to NYC-Arts.
Walk Around The NY Botanical Garden
The New York Botanical Garden is a living museum, an educational institution, and a plant research and conservation organization. The NYBG encompasses 50 specialty gardens and collections comprising more than one million plants, the Nolen Greenhouses for Living Collections, and the Enid A. Haupt Conservatory, the nation's preeminent Victorian-style glasshouse. During the Halloween time they farture pumpkin parades, in the winter they have their annual orchid show and holiday train show in the stunning Haupt Conservatory, and they have tons of farmers markets and wellness events that happen every week.
Cruise by the Statue of Liberty
The Staten Island Ferry is free and moves 22 million passengers a year between Whitehall in Manhattan and St. George in Staten Island. The ferry operates 24 hours a day, 7 days a week, with boats leaving every 15 to 20 minutes during peak hours and every 30 minutes at other times. While many traveling New Yorkers are familiar with the Staten Island Ferry and its scenery, new travelers don't know about its fast operation and its view of the Statue of Liberty. 
Take the Roosevelt Island Tram

 
Similar to the Staten Island Ferry, Roosevelt Island residents are privy to the view from the Roosevelt Island Tram, but for those just starting out it is awe-inspiring. If you take a look down the East River during the 4-minute ride, you'll see a great view of the Queensboro, Williamsburg, Manhattan, and Brookly bridges. The Tramway starts at 59th Street and Second Avenue in Manhattan and ends at Tramway Plaza on Roosevelt Island. All you need is a MTA Metrocard to make your way across.
Find Stardom at a TV Taping
While this one isn't necessarily easy, it is very very free! There are hundreds of tapings of New York–based shows such as The Late Show with Stephen Colbert, The Tonight Show Starring Jimmy Fallon, Late Night with Seth Myers, Saturday Night Live (pictured), Live with Kelly and Ryan, The View, and more. Even though tickets are usually first come first serve, you can check out NYC.com for updates on plenty of tv show tapings and ticket bids.
Make Your Way Through NYC Parks
The list of NYC parks is endless. In Manhattan alone there are over 30 featured parks while New York City as a whole has more than 1,700 parks, playgrounds, and recreation facilities across the five boroughs. These parks are home to sports, games, birding, arts and crafts, wildlife, films, tours, and tons of history.
Chances are, as a college student, you're going to be up at the oddest hours studying, partying, and everything in between. You can make settling down in the midst of the night an experience by finding quaint and fun diners that are open 24/7. These aren't at all hard to find in the city and our very own Morning Star Cafe takes MMC dining dollars and it is open 24 hours a day. 
Get Lost in Rockefeller Center
Rockefeller Center is a huge historical landmark in NYC because it's home to a bunch of attractions that you won't see anywhere else. Rockefeller Center is home to the underground ice-skating rink, Top of the Rock, NBC studios, observation decks, and of course, the annual Christmas Tree lighting. Rockefeller center is 100% free to enter and walk around. Even without buying anything and just talking a look around, it's an experience in and of itself. 
Go Booth to Booth at the Union Square Green Market
The Union Square Green Market is open Monday, Wednesday, Friday, and Saturday for 8-6pm. Between taking a nice stroll in the park and stopping at one of the many shopping areas there is a huge market for fresh flowers, produce, dairy and meat, seafood, and baked goods. There are also street vendors selling 1 dollar used books, homemade jewelry and art, as well as sweet but serious NYC characters beginning to dominate you at a game of chess. 
Overall, New York City is a melting pot of different people, food, and activities. Sure, 99.9% of New York can be overpriced and overrated, but if you find that 0.1% you can have the time of your life in this city.
Leave a Comment
About the Contributor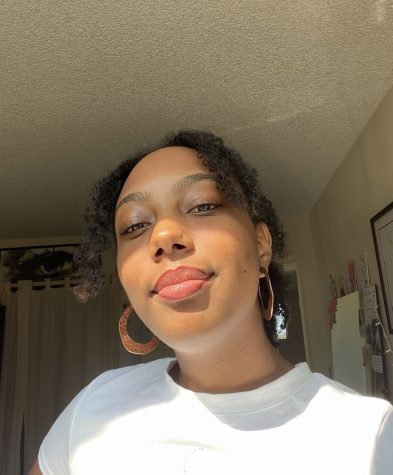 Rayiah Ross, Social Media Manager
Rayiah Ross is a senior majoring in digital journalism and minoring in creative writing. She has a focus on cultural criticism and social commentary.