Virtual Events
Staying Connected in Quarantine
Reading Time:
2
minutes
At this point, most students have familiarized themselves with apps such as Zoom, Facetime, Discord, and Slack. Honestly, we are probably using these apps way more than we want to. Even though these apps can seem like a huge annoyance sometimes, they do give us the great ability to stay connected while in quarantine.
Because gatherings for any purpose are banned all over the country, many events are becoming entirely online. The "One World: Together at Home" Global Citizen concert raised 127.9 million dollars for COVID-19 relief while musicians from all over the world performed from their homes. Another major event was the Nickelodeon Kids Choice Awards, which reached 2.4 million viewers as a virtual event, even though it is usually a broadcast TV program.
Many people are taking the opportunity to hold their own virtual events for much more personal reasons. With funerals, weddings, and graduations being postponed, people have gotten creative withholding these events virtually.
While distance stops attendees from physically being at an event, video conferencing apps are working in great ways to keep families and friends connected during the quarantine. "I am issuing an Executive Order allowing New Yorkers to obtain a marriage license remotely and allowing clerks to perform ceremonies via video conference," New York governor Andrew Cuomo announced in a tweet.
Schools and celebrities are also working to celebrate graduating seniors who are missing commencement events because of the pandemic. Stars like President Barack Obama, Oprah Winfrey, LeBron James, and John Krasinski are all organizing their own prime-time specials and events to celebrate the graduating class of 2020.
These virtual events don't have to be as huge and extravagant as a celebrity and global broadcasting. Jasmin Brown, a first-year student at Marymount Manhattan College, explained how spending time with family and friends through zoom made the tragic effects of the pandemic a little more pleasant.
When Brown's godsister's mother passed away because of a surgical mishap in the midst of her senior year, the pandemic only made her grieving harder to deal with. While Brown wasn't even in the same state as her godsister, she wanted to be there for her as much as physically possible.
"Prom was very important to her because it is her senior year and she had been on the prom planning committee in high school," Brown said. "So, when the pandemic cut it short, my sister and I decided to throw her a virtual prom. We got all dressed up in our previous prom gowns and makeup and danced harder than we had in a long time."
Brown went about setting up the virtual prom through Zoom by changing the background to a scene from the movie The Great Gatsby and playing all of their favorite music. Brown went on to say, "This definitely changed my perspective of what you can do over quarantine. Even when this quarantine is over, I would do this again if I wasn't physically able to make it to an event. I encourage everyone to try it if you don't want to miss family's or friends' birthdays, graduations, and other milestones."
Quarantine has already been hard enough for many of us and a lot has been taken away from us in these dark times, but don't let your connection with others be stripped away, too. So yes, Zoom and Facetime can be tiresome at times, but they are also the only thing truly keeping us together at a time when we need it most
Leave a Comment
About the Contributor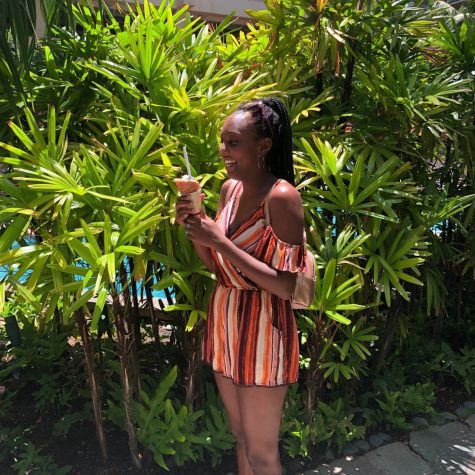 Rayiah Ross, Social Media Manager, Staff Writer