Metro Cards Will Soon Be A Thing Of NYC's Past
Reading Time:
2
minutes
One of New York City's most paramount resources is the subway system, which services around 3 million people every day throughout Manhattan, Queens, Brooklyn, and the Bronx. With 472 stations the subway has used MetroCards since 1997 as the only form of payment for the $2.75 fares, with options for single use, reloadable cards, and monthly plans. Yet the MTA has decided to move on from physical cards and will soon become completely digital. 
With the introduction of OMNY in 2019, paying fares has become easier and more efficient with the tap-to-pay system. The system accepts payment from any card with the contactless feature and those stored in digital wallets. OMNY has also introduced a fare cap to entice users and help people who rely on public transit the most. With this new feature, riders will only be charged for up to 12 rides throughout the week when paying with the same OMNY card, and any rides afterward will be free for the rest of the week. By the end of 2023, MTA plans to completely replace MetroCards with contactless payment. This is in hopes to make public transportation faster and more efficient for riders. 
For those who do not have access to smartphones or contactless payment methods, MTA will soon introduce OMNY cards that can be purchased at CVS, Walgreens, and eventually vending machines within stations. These cards can be purchased for $5, a large increase from the $1 MetroCards, yet they are more durable and do not expire for seven years, as opposed to the eighteen-month expiration of MetroCards. These cards can be refilled online or at their retail locations. 
This new contactless payment plan is one of the biggest advances that the New York public transportation system has made in a while, with some stations and cars that haven't had renovations since the 1970s. Yet, there are some concerns about the safety and security of the OMNY system. Civil rights groups are concerned that OMNY user data could possibly be given to ICE and used to discriminate against people of color and immigrants. While there is little evidence that information will be outsourced from the OMNY readers, activists are working hard to ensure laws will protect the privacy of riders. It is also a concern that low-income and homeless riders will now have to pay more for the OMNY cards than the Metrocards, disproportionately affecting these groups. 
Despite these concerns, OMNY is soon to be the only available way to pay for the subway, and with this switch comes the question, what else will MTA be changing within the subway system? And will this new technology really help relieve some of the stress of riding the subway?
Leave a Comment
About the Contributor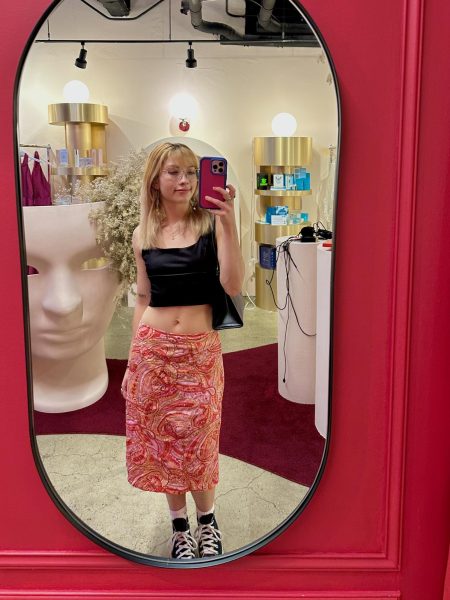 Francesca Crumpton, Digital Managing Editor
Francesca Crumpton is a Senior at Marymount Manhattan College studying Digital Journalism with a minor in Political Science. She specializes in writing...